Ah, the holidays, that time of year we go without rest, raise the stress, overly ingest and financially regress to enjoy the peace and joy of the season. To warm your hearts amidst the chaos, the Metis family is bringing you regular reminders of why we do it – and that means holiday photo essays of our pets!
Dre is a pekingese, tibetan spaniel mix (or at least, that's his pawrents best guess). He's a pupper for all seasons, but from Thanksgiving to Christmas and right through Hanukkah, he particularly can't help putting on the dog. So forgo the gifts and do like Dre; dress for the party and show up to play, no matter what the occasion.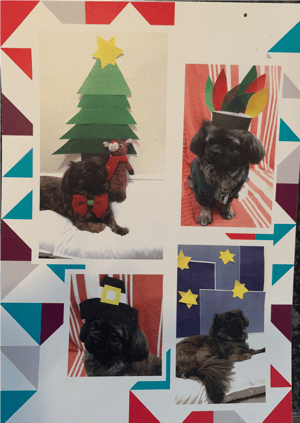 In this holiday photo shoot, you'll see Dre was "fresh out the gate" with a nod to both sides of the Thanksgiving table. And proving once again he's an equal opportunity partier, he's clearly prepared to kick it on Christmas and Hanukkah, too.
"Dre does enjoy the holidays," confirmed his human, Metis' marketing and social whiz, Kim Caro. "He's always ready to bring it and I believe he very much appreciates when others represent as well."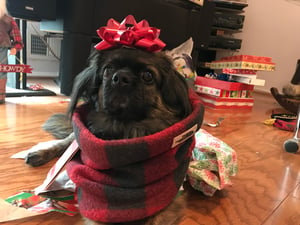 We can't forget about Dre's younger sister, Zoey. A cattle dog mix (again, a total guess), she lives her best life in the winter months.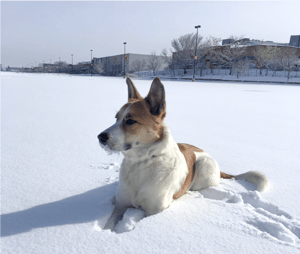 Although she refuses to dress for the holidays like her brother, she will gladly pose for a picture in the snow. Zoey's favorite weather is a blizzard and she'll gladly frolic in the snow until it's time for dinner. Her gift list includes KONG plush toys, ropes and some homemade dog biscuits.
"Zoey's favorite part of the holiday season are all of the gifts she gets," adds Caro. "Give her a new kong plush toy and she'll entertain herself for hours."
Dre and Zoey have promised to stay out of the gifts until Christmas day, though their humans are hopeful, they've heard that line before.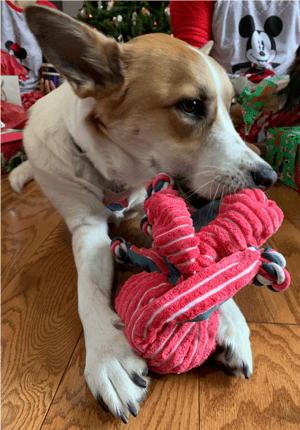 If you missed it, get to know Kodiak Fawcett in our first Holiday Paws post.