Ah, the holidays, that time of year we go without rest, raise the stress, overly ingest and financially regress to enjoy the peace and joy of the season. To warm your hearts amidst the chaos, the Metis family is bringing you regular reminders of why we do it – and that means holiday photo essays of our pets!
Beru is a 2-year-old German Shorthaired Pointer, fond of belly rubs, long walks and turkey bacon.
Despite her young age, she's a stickler for celebrating Christmas properly. For instance, she'll often redecorate the Tannenbaum, rearranging and removing ornaments, helping her humans present a tree that adheres to tradition.
One look at this photo and it's obvious Beru knows what she's doing.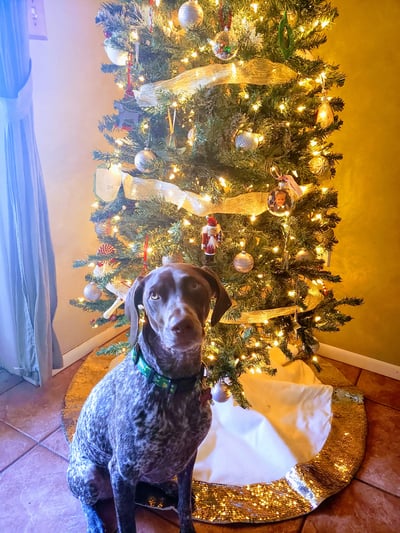 "It can be a little frustrating, sometimes things break, but no one brings the 'Christmas feels' to Winter Springs, Florida like Beru," said Chrissy Stalions, Metis' favorite graphic designer, who along with husband AJ and son James, assists in making sure protocols are followed.
"She knows what she's doing, and when she barks, it makes you wonder if Krampus is sneaking around," added Stalions. "Living up to her expectations can be intimidating but we always end up with the most tasteful holiday photos."
Did you miss our last Holiday Paws post? Meet Huck, one very stylish pupper.