Ah, the holidays, that time of year we go without rest, raise the stress, overly ingest and financially regress to enjoy the peace and joy of the season. To warm your hearts amidst the chaos, the Metis family is bringing you a reminder of why we do it – and that means holiday photo essays of our pets!
A monumental holiday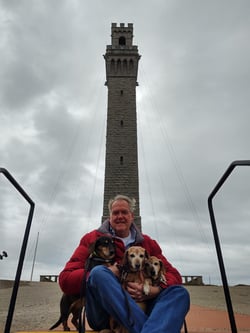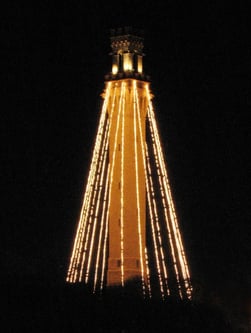 Joshua, Miss Hannah and Luke are dachshunds dedicated to truth and diversity. Here they are with their human, Ron Spinks, finance manager at the Pilgrim Monument and Provincetown Museum (PMPM), a Metis client. Just as the Monument illuminates the holiday sky, PMPM's mission is to shed light on the area's rich history and ensure that it's told accurately.
Think that rock is where the Pilgrim's first stepped foot in America? Envision them as welcoming? Joshua, Miss Hannah and Luke would like to remind you the first landing actually took place here. And to truly understanding what kind of neighbors the Pilgrims were, they suggest you check out PMPM's newest exhibit, "Our Story: The Complicated Relationship of the Indigenous Wampanoag and the Mayflower Pilgrims."
And take notes!
Home is where the pets lie
Our Marketing Communications manager, Kim Caro, and her fiancé Kevin's holidays just wouldn't be the same without their rescue dogs: Milo, a 10-month old and Zoey, a 4-year old.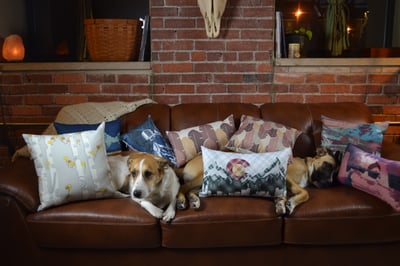 Milo is convinced he's a lap dog despite being a german shepherd, pitbull, bulldog and border collie mix. Zoey is a sweetheart who shows her little brother the ropes, which means deciding when and where he is allowed to play with her toys.
This holiday season, they're thankful their humans are continuing to spend more time at home. After all their play is done, they like to snuggle up with one another on the couch, sometimes leaving room for Mom and Dad. Clearly, today was not one of those days.
Drooling through the snow
An 8-year-old black lab entered our Intern's home, Jillian Collins, with the unfortunate name of Fatso (given by his breeder). He has since become the family's beloved Oakley, and the only nickname he has is "Mister Wiggles," a result of what happens when excitement takes over his body head to tail. And he's ready to wiggle right into the New Year.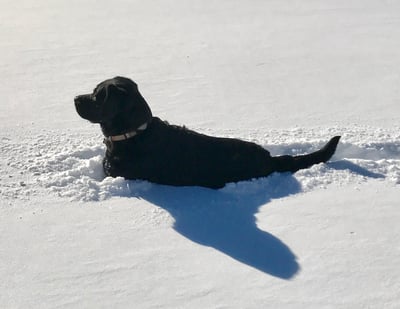 Oakley loves to eat, play and relax, as if he's still a puppy. Between sessions of sitting at your feet drooling in hopes of dropped food, you can catch him dashing through the snow. As we speak, his stocking is being hung and he will be awaiting all his humans to return home. Until then, he will soak up being the favorite child.
Can never have too many labs!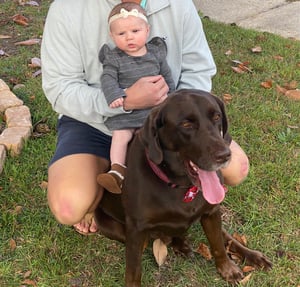 Our account manager Caroline Curran has a 7-year-old chocolate lab who loves running, swimming, sticks and tennis balls. He could not be more excited to ring in the holiday season; as evidenced by his holiday llama bow tie.
Since his family moved to Florida, he runs less and swims more, which is fine by him. He was also recently promoted to big brother to his human sister, Harper Grace. Protecting her is now his No. 1 job, which he cherishes above all else, as you can see here.
For Christmas, he hopes for a long run, followed by a splash in the pool and maybe a rawhide or two.
Cozy by the fireplace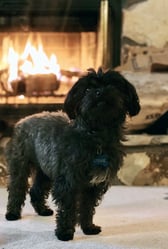 While Christmas trees are frightening to Stevie, a 4 ½ - year-old poodle rescue mix, he loves any excuse to spend time with his favorite two-and-four legged friends, especially when there's yummy food to be dropped.
His mom, media consultant Lizzy Harris, and dad hit Home Depot more than usual this time of year. Works for Stevie. It is his favorite place because he gets to see so many pets and sometimes even gets a treat!
This year Stevie asked Santa for a long walk around the neighborhood, tiny tennis balls and lots of cuddles on the couch by the fireplace.
Riding into the New Year
Sunny, a 1-year-old, and Daisy, a 10-year-old, are two Jack Russels who could not be more grateful for the holidays. That's because their humans, including Account Executive Kelly Haddock, will be giving them lots of attention. In particular, Kelly's son Carter will be taking a break from school and basketball. And that means dirt road rides on "their'' Kawasaki Mule.
Here they are trying to convince Carter to do just that.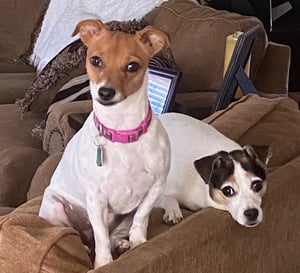 Daisy's birthday is on December 16th, so she gets to celebrate all month long. This year, they're both asking Santa for more chew toys - because they don't always agree whose is which - plenty of treats, and of course, lots more mule rides!
Leftover lover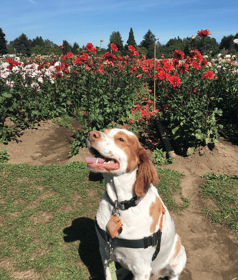 Auggie, a 6-year-old brittany, enjoys the simple things in life from his place in Oregon. He doesn't think much of the holidays to be honest. However, he doesn't mind the turkey, ham and other delicacies that make their way to his food bowl this time of year.
After all, he recognizes his human, communications consultant Jeff Miller, did go to a lot of trouble. And if it's special to Jeff, it's special to Auggie.
He wanted to provide you all with this picture of him at Swan Island Dahlia Gardens. No need for thanks - Auggie just wants to help put you in a peaceful mood for the season.
Merry Hissmas!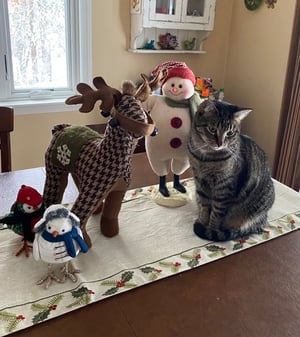 When Grape the mackerel tabby heard his sister, Amenita, was going to spend the whole holiday season with him, he couldn't have been more excited. It's gone well. However, every once and awhile, Grape can't contain himself and his desire to chase or groom Amenita is met with terrifyingly loud hisses and growls, usually when their humans are sleeping.
Here, Grape is just trying to get Amenita to pose for their annual holiday photo; it means a lot to him and he's even agreed to pose with....birds. Amenita's still having none of it. Poor Grape. However, it should be noted he immediately leapt from the table after this shot and chased Amenita throughout the house.
Merry Hissmas, indeed!