Ah, the holidays, that time of year we go without rest, raise the stress, overly ingest and financially regress to enjoy the peace and joy of the season. To warm your hearts amidst the chaos, the Metis family is bringing you regular reminders of why we do it – and that means holiday photo essays of our pets!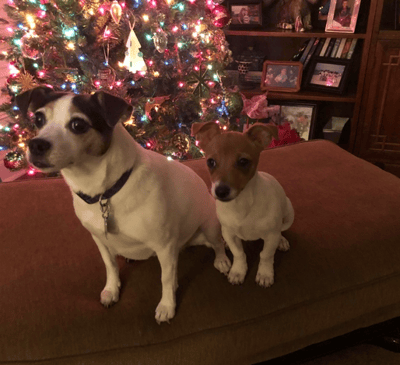 If these Jack Russell Terrier's look contrite, there's good reason.
Eight-year-old Daisy, and four-month-old Sunny, ruined their holiday photo shoot by tearing their Santa hats to shreds even before a single shot could be taken. As a result, their mortified humans - Metis media master, Kelly Haddock, husband Buster and son Carter – were only able to get this single image.
And they've threatened to call off Christmas!
We're hoping they can be swayed to give Daisy and Sunny another chance.
Working on a Georgia farm has its challenges. There's rattlesnakes, water moccasins and copperheads. Alligators in the pond behind the house. And, of course, there's coyotes, bobcats, foxes and large birds of prey to consider. Keeping the Haddock's safe is a full-time job - sometimes it's not so easy to "turn it off."
Please, put them back on the nice list. The Santa hats were asking for it.
Craving some more holiday paws? Get to know more Metis pups!