Moments of victory, moments of pain - all make for Halloween memories that last a lifetime. That said, we're going to take a few moments away from our marketing and public relations activities to share a few of our stories, as well as some of our favorite Metis costume photos.
Best of times, worst of times – Justine Boucher
When I was in middle school, the town hosted a scavenger hunt around the time of Halloween where 7th and 8th graders would dress in costume. "The Hunt" was partially festive and partially to discourage parties with underage drinking (or so the rumor goes). We'd break into groups of three to five students and count how many Os were painted on the side of the middle school, figure out the distance between the gym and the football field or other tasks. Big prizes and money were involved, including yearbooks (easily over $100) and prom tickets (also over $50 bucks apiece), so teams were pretty serious.
Each group could score points for tasks and get additional ones for finishing on time — not to mention points and prizes for best costume. My first year, we were woefully underprepared and placed among the last teams. As seasoned eighth graders, we carefully planned our costumes, characters from the Wizard of Oz, which are recognizable and offered fair mobility (important!). We also brought along walkie talkies. We quickly prioritized tasks on the scavenger list, tossed low-scoring ones to the side, and divided and conquered.
By sprinting around the middle school, screaming instructions over the radio channels, and taking a "good enough" approach to accuracy and completion, we wrapped up our tasks and banked the extra time. The prep work put us in second place for the whole school!
The first prize winners received free prom tickets and yearbooks. What did our all-female team score? Jewelry. Total 90s black-corded junk with silver crucifixes – and this was a public school.
It was both a triumphant and disappointing moment, all wrapped into one.
We were robbed – Caroline Curran
I remember it like it was just yesterday. The wounds are still fresh. It was Halloween 2018. It was a balmy 75+ degrees with 90% humidity outside - a classic North Carolina Halloween Day. Kodiak, my wonderfully behaved and particularly patient 95-pound chocolate lab, and I were feeling particularly proud of our Halloween costumes for Metis' costume contest.
I was Maverick and he was Goose - or the other way around - either way, together, we were Maverick and Goose, you know, from Top Gun? My husband is a former USMC F/A-18 pilot so we (yes, the dog and I both) wore his flight suits and I wore his actual helmet. We each wore aviators - one pair was military-issued, the other was from H&M.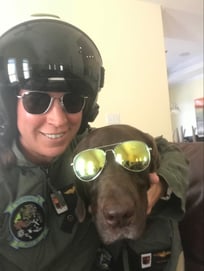 We joined our Halloween contest via Skype or Google Hangout a few minutes early so that everyone logging on would have the pleasure of seeing us in all our Halloween glory. We had no idea then what was waiting for us. I suspected that Mel Rubbelke would be our stiffest competition because of her adorable baby Leo, who was dressed as – you guessed it – the cutest little lion ever to prowl the land. And sure enough, they brought it.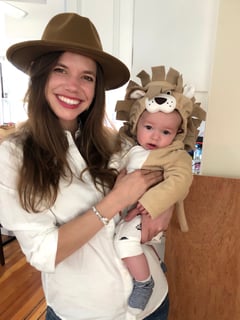 But out of nowhere, here comes Justine Boucher bringing her A game.
She was dressed as Cher. And not Sonny-and-Cher era Cher that you get at a Halloween shop - she was full-blown hairpiece, shiny things and impeccable makeup, Cher.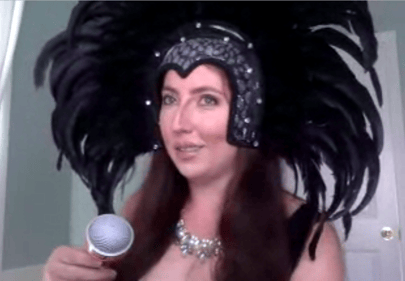 Kodiak and I were doomed and I knew it. So there we were, down and out in North Carolina, devastated from our crushing loss in the Metis Halloween costume contest, unsure if we'll ever dress up again. Or will we?
Prodigious pumpkin thievery – Marty Querzoli
I grew up in a small, rural town where Halloween was big – the tricks being the biggest part for high schoolers. I had a friend whose father was fanatical about growing the largest pumpkin around, we're talking hundreds of pounds. He'd then put it on his porch and drive his family crazy with his over-protectiveness, staying awake late into the night to make sure it wasn't stolen.
Naturally, when my posse found out, we had to steal it.
The morning after doing so, we left it in the school lobby. The next year we struck again and put it on a toilet in the restroom. Each time, my friend would have to roll this mammoth pumpkin around school all day, because if he put it somewhere for safe-keeping, we'd only recapture and hide it again.
Not sure what we had against pumpkins, but we also stole around 100 of them and put all on another friend's front lawn. They tried to get us for stealing a cow around graduation, which really made quite a mess when it roamed the school, but that one wasn't us. The responsible party was caught, and in fact, went on to a very successful career as a coach at the school.
Even in the season of ghosts and ghouls, there's no place for Scary PR tactics. If these tricks sound familiar, it's time to dust the cobwebs off your PR program.