I'm on a year-long adventure around the world with Remote Year: 12 cities, 12 months, 53 people. Read the last post here.
I visited the small city of Sofia, Bulgaria in August. It was the first city on this journey that didn't immediately charm me.
Well, I take that back.
Immediately after landing, I went to lunch at a restaurant tucked into the mountains. That was a charming and refreshing introduction with cool air, greenery and a trickling stream, while we dined on fresh salads, grilled meat and still-hot-from-the-oven bread.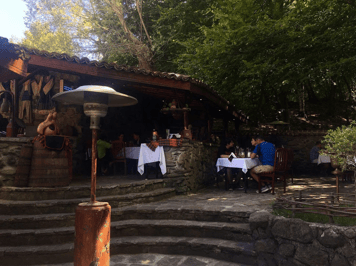 Moving into the city itself, though, brought a far less energizing feel, with an overabundance of cement buildings and streets and sidewalks in various states of disrepair. Sofia is still growing out of its communist past.
After a few weeks of getting to know the city, I started to look past my first impressions and see the quirks as charming. Bulgarians are incredibly kind and willing to go out of their way to help a tourist confused by the language.
Fun fact: did you know Bulgaria is one of the few places that nodding your head means no, and shaking it means yes? Who knows what I accidentally agreed to.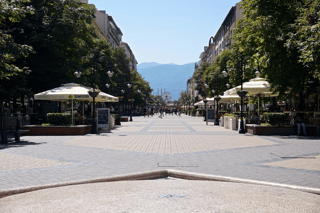 Bulgarians also appreciate health, good food, nature and balance, which leads to this month's lesson:
Take care of yourself.
Traveling around Europe has been a constant reminder of how much Americans dedicate themselves to work. It's where we spend a whole lot of our days. Though connectivity and technology is amazing and is what has enabled me to live this remote-work lifestyle, it also means we're available to work at any moment of the day – making it harder to truly shut off.
There's a burgeoning startup scene in Bulgaria, but the vibe is different than what we see in the U.S., where working 12+ hours is a bragging right. Bulgarians recognize the importance of balance. They take time to escape the city and recharge in nature over the weekends. Sofia is surrounded by beautiful mountains and lakes, plus it's not far from the Black Sea. In fact, most of the companies in my co-working space worked from the space's location on the coast for the month of August.
That time to disconnect, paired with activity in nature's fresh air, abundant hot springs and mineral water, and the city's penchant for fresh juices and veggie-centric dishes (a big deal for an Eastern European culture that loves its meat!), makes for a healthy lifestyle. When you're healthy in all areas of your life, it bleeds over to work. Your brain is functioning better, you're more productive and generally more accomplished at work.
So, take a note from the Bulgarians and find time for self-care. It will benefit you more than you know.