You know that magic that happens when you work with awesome people? We think it's everything, and we love working with folks who bring that kind of chemistry into our days. As often as possible, we sit down with one of these execs to talk about startups, the future of their industries and whatever other topics pop up.
In the hot seat today: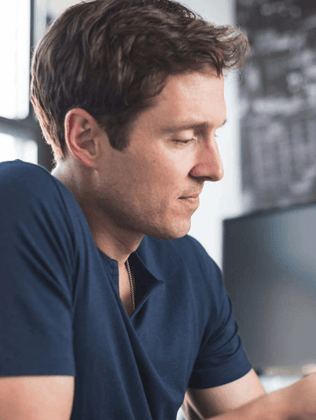 Tom Patterson, founder and CEO of men's underwear brand Tommy John. He traded his career as a medical device salesman for a mission to reinvent men's underwear.
With the support of his wife, Erin, a local tailor and a small team of designers, Tom re-imagined the fit, feel and function of man's most fundamental layers. He built and patented new features from scratch. The result? Shirts that stay tucked, socks that stay up and underwear that keeps everything in place, whichever way a man moves.
1. When and where did you start out?
Back in 2008, I was a medical device salesman frustrated with the fabric, fit and functionality of my undershirts. I wanted to find a better solution, so I created one. I designed an undershirt with a longer, tapered design and submitted it for a patent. We have the only undershirt on the market with a patent for a stay-tucked undershirt. And that's just the undershirt, all of our products are designed to uniquely solve problems.
2. What's one thing you've learned since starting out?
I learned the importance of being authentic and creating a product that solves an unmet need. That's really what we do at the end of the day. All our products originate from solving problems I've had personally with my clothing. We find that consumers desire credibility from brands. They want the product to live up to their claims.
3. How do you establish that and maintain a unique brand voice?
Men's underwear is a very crowded space with both heritage and up-and-coming brands. That said, we believe the other brands in the category have a tendency to come off as unapproachable and non-relatable. We say it like it is and talk about real life struggles guys have with their underwear.
4. How can marketers get consumers to care about their products?
Make a product that solves a problem or an unfulfilled need in the market and get people to try it. Before I took my first meeting with a retail buyer in 2009 I made her gift her husband and all male colleagues Tommy John. When I arrived, she had already received resoundingly positive feedback and was ready to put us in 3x more doors than initially discussed.
We maintain consumer appeal by producing quality products. From inception, that has been our primary focus. As we grow, we are maniacally focused on maintaining that same level of quality in every product we produce. We also listen to our customers and learn about what they are and are not looking for.
5. What's been your biggest challenge starting Tommy John?
I believe the biggest challenge is to stay true to your vision despite the consistent pressure otherwise. As you grow, you get presented with more and more opportunities. Partnerships, funding, expansion into other categories, etc. People will always be pulling you in a million different directions, but as the founder you are the gatekeeper and need to be incredibly selective in what makes sense for your business in the long run.
6. Do you have advice for entrepreneurs just starting out?
Find something that you can make better, something you're passionate about, and just do it. Don't conform to industry standards. I had no background or connections in clothing design nor manufacturing, and to this day I believe that was my greatest asset. I was able to find new, more efficient ways to get things done. I asked questions and challenged processes that most people in the industry follow on autopilot.
7. What should startups do to make it in the long run?
One reason for our longevity in this competitive market is our approach to slow and steady growth and following your gut. Your gut never lies. We made the decision not to be reliant on VC funding because we wanted to grow at our own pace and maintain control of the business. Too often people get caught up in evaluating the business by its valuation and allowing things to distract their focus. Large funding rounds can't secure longevity in the business. Instead, it's important to perfect your product and understand your customers first.
8. Any parting advice?
Commitment and resilience will be your most important assets. Stick with it, work hard and do whatever it takes to secure that meeting, or to hit that goal. It will be worth it in the end.
Subscribe to the Metis Communications newsletter for more marketing insights from industry experts.