You know the magic that happens when you work with awesome people? We think it's everything, and we love working with clients and partners who bring that kind of chemistry into our days. Every month, we sit down with one of these execs to talk about PR, marketing, the future of their industries, world domination and whatever other topics pop up.
In the hot seat today: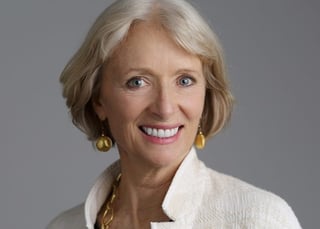 Stephanie Newby is CEO of Crimson Hexagon, a provider of social data analysis to inform strategic enterprise decision-making (and a Metis client). She is also the founder of New York-based venture investment firm Golden Seeds. Her prior experience was in financial services, the majority of which was with J.P. Morgan, where she led several global businesses, including serving as the head of e-commerce. Newby retains a board position with publicly traded Amec Foster Wheeler plc. Her 10 prior board positions include Riskmetrics Group, U.K. Securities & Futures Authority, and Archipelago Holdings. She obtained a bachelor's degree from the University of Sydney.
1. Who has influenced you in your career, and how?
The people who have worked for me have had huge influence. One in particular is Olivia Dickson, who was a member of the global futures management team that I led at J.P. Morgan in the '90s. She was a tough person to manage, because she was so demanding – but that is what I liked about her. She questioned me whenever something I said or a decision that I made didn't make sense to her. And I respected her analytical capabilities and intellectual integrity so much that I realized if I could not explain something to her, then I needed to do more homework. I learned more from Olivia than any other person I have ever worked with.
2. You've said social media can make CEOs more effective. What do you mean by that?
CEOs who want to create competitive companies from the top down are missing out on major opportunities by treating social media as little more than a customer service platform or ignoring it entirely. No matter the size of the company, a CEO is, ultimately, the face of his or her company. With visibility, transparency and culture emerging as influencing aspects of everything from recruitment to brand appeal, social media is a chance to promote the values and image a CEO wants to advance.
3. Fill in the blank: the most important thing leaders need to remember about social media data is…
A social CEO isn't just a person with a bunch of Twitter followers or someone who can drum up a few hundred likes on Facebook or Instagram. CEOs need to push social data as an important source of market intelligence and audience insights across every department of a business. Social insights can help brands predict sales, acquire more customers, recruit the right kind of candidates and more.
4. Who is a good role model for executives who want to build their presence on social media to make their businesses more recognizable?
Richard Branson of Virgin promotes his company by sharing and creating meaningful content on Facebook, Twitter and LinkedIn, among others. His presences on these sites boost social engagement for the brand, keeping Virgin top of mind among its target audience and constantly expanding visibility without distracting from its goals. That's not to say every CEO needs to be Richard Branson, but by leveraging one or more platforms well, leaders get a direct channel to interact with employees or solicit feedback, and a platform to speak directly with a target audience.
5. What do you look for when you bring in new hires?
Ultimately, it's better to hire for potential. Hiring for experience might serve you well at first, but potential is more important in the long term. When I bring someone into the company, I look for two qualities: a learning person and a happy person. I want people who can think on their feet and not let their egos get in the way of learning new things. These are the type of people who can go anywhere with their careers. And a happy person is not one who ignores problems; it's about being solution-oriented when problems arise.
6. What's your main focus right now, either day-to-day, big-picture or both?
We are currently in the process of refreshing our multi-year plan. I want this to become an annual exercise for October, as it enables us to focus and prioritize at the strategy level, prior to going into the annual budgeting cycle.
7. If you weren't working in social media analytics, what would you be doing?
I would be building something. I love business, and I love growing things. So I would be looking for something to sort out (starting with something that either does not exist or is a bit messy), that could then be turned into something big, and that has the potential to become No. 1.
8. Where do you get your news?
Twitter, Facebook, LinkedIn, New York Times app, WSJ online, and Bloomberg news are my regulars. In addition, I love HBR and McKinsey Research of any kind.