You know that magic that happens when you work with awesome people? We think it's everything, and we love working with folks who bring that kind of chemistry into our days. Periodically, we sit down with one of these execs to talk about startups, the future of their industries and whatever other topics pop up.
In the hot seat today: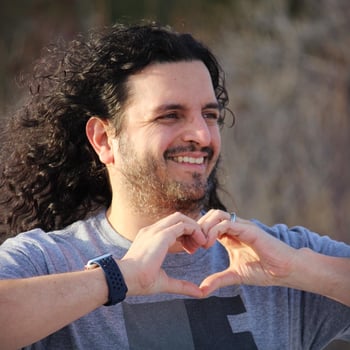 Truly an OG of the web industry, Leslie Camacho has been integral in the web dev world since the inception of web publishing and the rise of digital agencies. He spent a decade and a half helping some of the best independent CMS companies grow and succeed. Now, as independent digital workers and small business owners proliferate, Leslie has committed his skillset to helping them thrive.
With his new venture, Owner Standup, Leslie is training owners to run their businesses in a way that sustains the life and legacy they dreamed of when they first began. His unique "Operations as a Service" model offers his 20+ years of leadership experience without the overhead of hiring a full time chief operating officer (COO).
1. Tell us about your mission for Owner Standup; how do you want to change operations for small businesses?
Operations and "business consulting" is typically a bunch of spreadsheets flavored with a lot of "maximizing profit" talk. My problem with that approach is that you can maximize your profits and completely kill your business in the process - I see it all the time. I'm not against spreadsheets or maximizing profits!
But for me, the heart of ops is people + culture + vision.
We're in a culture shift where the old top-down way of doing business and selling widgets isn't a guaranteed success anymore. We're all trying to survive the American Dream. The accumulation of "stuff" hasn't fulfilled us and many of us got financially destroyed by the Great Recession in 2008. We probably won't all have a retirement "happily ever after," where we can finally pursue our dream lifestyle. So we have to create it now, while we're grinding. That means our work has to matter, our purchases need to make an impact, and what we are doing with our daily lives has to really count.
This is why operations matter so much: People are hungry for a sense of belonging and meaning. With a skillful, human-centered operations strategy, profit is a byproduct of your healthy, thriving environment, where everyone's living out a shared mission and value and sharing it with your customers.
2. What's the biggest pain point owners are telling you about?
The biggest pain point presents as: "I don't have time because X."
"X" can vary widely but it is usually the cumulative effect of not being familiar with or comfortable running the day-to-day business side of things. When an owner doesn't have their business operations automated, it becomes an overwhelming time suck that clouds everything and prevents them from doing what they love.
Most owners I know started their business so they could excel at dev, design and or content strategy. Then they reached this tipping point of success where they had to start actually running a business and they're just getting run over instead.
So, the deeper question owners have is really, "How do I actually manage and grow my business?"
That's my sweet spot and where I love helping owners. It's not nearly as complex as it feels; once you get your processes in place, you can go back to doing the thing that made you first fall in love with this work.
3. How can a business set themselves up for success?
In addition to tracking their KPIs, the most important thing a business can do is implement an "operating system" with the company's culture, values, and goals in mind, that keeps things humming on a daily, weekly, monthly, quarterly, and yearly basis.
This cadence needs to cover sales and marketing, operations (delivering value), business admin., and leadership. It needs to be a standardized process that keeps you responsible to your essential business fundamentals, while making the tasks as quick and painless as possible.
This type of thoughtful automation is the key to freeing up your time as an owner and deciding where to put your best efforts.
4. Speaking of, what are the 3 most important KPIs that a small business owner can start tracking right now?
Profit margin per project - how much of every dollar that you charge the client you get to keep.
Quarterly sales/revenue forecast - how much money you can reasonably expect to come in.
Talent happiness - how productive and delighted your people are about working with you.
Bonus KPI: Customer Success Loop - this doesn't have to be a "KPI" to begin with. The most important part is to establish a feedback loop for improvement.
Almost every other meaningful KPI can be built and measured once you have the above 4 in a measurable state.
5. Who is a hero to you? How have they impacted your work?
Jenn Dary, Plucky - she did it! Beat a brain tumor and started a business to help employees and leadership understand each other so they can live better.
Anil Dash, Glitch - his activism and the way he intentionally builds company culture are inspiring. Plus he is a CMS OG like me.
I take similar lessons from both. It is so important to be intentional about creating the business life you want for yourself and others. Part of that life needs to be making a difference in a meaningful, tangible way.
6. What are you reading/listening to?
Listening: Nerdy metal - Nightwish, right now.
Reading: Brave New Work & Embrace Your Weird
7. What are you geeking out about right now?
Business operating systems, kaizen, ikigai (new idea to me, thanks Pete), and the future of service SMBs and independent workers. Our working lives now are often barely passable. We need a better way of thinking about the lives we create as we create value for others. That's a lifelong journey, probably inter-generational in nature. I want to be part of that revolution.
8. Fill in the blank: The most important thing owners need to remember about operations is __________.
That it's about crafting the life you are asking your talent to live every business day. It is crucial to understand that. Fundamentally, you are designing a lifestyle that creates value - that value must have impact in both the personal and business.
Subscribe to the Metis Communications newsletter for more marketing insights from industry experts.