You know that magic that happens when you work with awesome people? We think it's everything, and we love working with folks who bring that kind of chemistry into our days. Every month, we sit down with one of these execs to talk about startups, marketing, the future of their industries, world domination and whatever other topics pop up.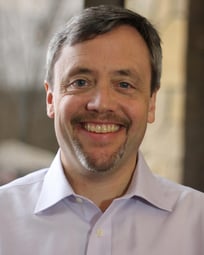 In the hot seat today:
Jeff Boehm is chief marketing officer of NuoDB, the database for cloud-enabled global applications. A veteran marketer, Jeff drives all aspects of corporate and product marketing, and enables direct and indirect sales channels. His deep experience crafting product and company positioning and launching B2B technology startups comes from leadership roles at organizations including DataGravity, QlikTech, Invention Machine, Endeca and others. He is a core member advisor for _Underscore.VC and most recently served as CMO advisor for multiple Boston-area startups.
1. Give us your 5-W's professional snapshot.
Who influences you and why?
I often look to great marketers who have bridged the divide in B2B marketing – taking a technology-based product and translating it into something that non-technical people can understand and get excited by. I also pay attention to what people like Simon Sinek and Seth Godin have to say about translating messages in ways that resonate.
When and where did you start out, and how did that experience shape you?
I started out at a little company in Boston called Spinnaker Software, the same place Seth Godin started, actually, although we were there at different times. That position propelled me into the world of helping people understand how to use data more effectively, which I've been doing ever since.
What's your main focus right now?
I like having the balance between the strategic and tactical in marketing leadership, which is why I work with small companies. I love the opportunity to roll up my sleeves and practice the art of marketing. My career trajectory has been all about finding those opportunities to balance data-driven marketing and creativity.
2. When you think about the future of tech marketing, are you:
So, so excited
Cautiously optimistic
Kind of uneasy, TBH
I'm excited. For me, that's always about working at a company I'm passionate about and I believe in. If you have that, your exposure to new ideas, mediums and approaches are constantly evolving – and that's exciting. More than ever, it's clear that marketing is absolutely critical to the success of technology companies. More people are recognizing this, and marketing is getting an equal seat at the table.
3. Fill in the blank: the most important thing emerging companies need to remember about marketing is…
It's all about the customer. Tech companies that market from a tech-out approach think about what they've built first, but they should start from the perspective of "who are our customers, and what challenges do they have that we can help with?" Technology companies need to show that their products are more than speeds and feeds, that they solve a problem, and they can explain that problem in a way anybody can understand.
4. What's at the top of your wish list for your industry?
I want to see more collaboration and sharing between marketing leaders and organizations. This is happening at conferences like Inbound and a growing number of others. This is critical. I saw it firsthand when I recently served as the interim CMO of a couple of different companies while advising several others. Companies can learn from each other, and marketers should embrace that opportunity to share.
5. As a marketer, what keeps you up at night, and what gets you out of bed in the morning?
I think most marketers ask themselves whether what they're doing is moving the company forward. Are we helping to achieve company goals around awareness and revenue? Are we aligned with sales? When I see a divergence there or see marketing not moving the needle, that's worth staying up at night to figure out.
What excites me is the opportunity to try new things and make a difference, especially at startups. I love the immediacy you get from trying a new approach and seeing the impact. Let's say you brief a blogger or an analyst, and you see the write up the next day. You launch a demand gen program and you immediately start to measure the impact. That rapid feedback loop is exciting.
6. How do you evaluate ROI?
Marketing is a blend of art and science. There's no excuse for any part of marketing to say, "we can't measure what we're doing." First and foremost, ROI comes down to alignment with corporate goals and objectives. I'm a strong believer in having a clear marketing dashboard that everyone on the team can see to determine how they're contributing.
When I first started in this field, it felt much more like an art and not a science. Over the past 10 years, there has been such an explosion of data and analytics. This is a huge asset for creativity. Marketers have always been able to take risks by trying new things; the difference now is that we can much more readily measure success and failure.
7. If you weren't a marketer, what would you be doing?
One aspect of my role I really enjoy is the opportunity to mentor and lead teams, and I have thought of a second career in a future life where I'm teaching. I have two kids who have gone up through the school system, and I have enjoyed working with them and their schoolmates.
8.

Where do you get your industry news?
I get a surprising amount of my industry news through Twitter, but I'm judicious about who I follow. I track a select list of thought leaders and pioneers in the industry, and I scroll through them daily. I also read the top-tier tech blogs and websites, as well as posts from marketing gurus who have interesting insights, like Mike Volpe and Seth Godin.
Follow Jeff on Twitter @jsboehm.