You know that magic that happens when you connect with awesome people? We think it's everything, and we love talking with folks who bring that kind of chemistry into our days. Every month, we sit down with one of these execs to talk about startups, marketing, the future of their industries, world domination and whatever other topics pop up.
In the hot seat today: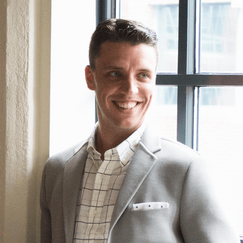 Chase Garbarino is the CEO and co-founder of VentureApp. Chase has more than a decade of experience forming, launching and running businesses, such as CampusWord, Pinyadda and Streetwise Media, which was acquired by American City Business Journals in 2012. As co-founder and CEO of VentureApp, Chase is focused on creating a chat platform for professionals that will strengthen the economy through content, community and connections. He's also an angel investor in companies such as Drizly, Jobble, Tablelist, Notarize and lovepop.
Give us your 5-W's professional snapshot.
Who influences you and why?

Initial entrepreneurship influence came from my grandfather and my father. My grandfather ran a liquor store, and my father started healthcare companies. It runs in the family. Day-to-day inspiration comes from pure desire to connect business communities in order to help grow the economy – to build a pillar tech company in Boston.
When and where did you start out, and how did that experience shape you?

I technically started out selling Pogs to my middle school classmates on the playground. In college, I imported Ping-Pong balls from China and sold them to students, fraternities, sororities, sports teams, etc. That venture was ultimately shut down, but it's safe to say I had the entrepreneurial bug. My current co-founder, Kevin McCarthy, and I founded CampusWord from there – it was a national collegiate publication involving over 200 writers and editors from over 100 top colleges and universities in the country. It was the first thread in a theme of businesses all focused on connecting people with content and community. I personally have been obsessed with bolstering tech communities, entrepreneurship and small businesses for over 10 years. I believe technology and entrepreneurship can be the biggest equalizer in bringing prosperity to more and more people.
What's your main focus right now?

At VentureApp, we're heads down creating a community platform where professionals can engage with other people in their business networks and strengthen the economy as a whole. As the CEO, I'm focused on four primary things (inspired by this Fred Wilson post

with my own twist): 1) Set the vision and strategy for the business 2) Make sure our operations align with executing our strategy 3) Make sure we have the best people in the right places to execute operations and 4) Keep the business capitalized.
When you think about the future of startups, are you:

So, so excited
Cautiously optimistic
Kind of uneasy, TBH
Why?

It's hard to be in this business without being incredibly optimistic, but I also like to think that I'm practical about what we as a company need to do in order to be successful and ultimately excited. The state of startups and the capitalization of entrepreneurs will always be in flux. It's important to keep that data and trendspotting on your radar, especially around fundraising times, but staying focused on your business and the benchmarks you need to reach to truly be successful is critical. You have to stay excited and not distracted by funding crunches or unicorn bubbles.

Fill in the blank: the most important thing startups need to remember about growth is…

It's rarely delivered in a silver bullet. Steady, disciplined, continuous testing will drive incremental growth based on data, customer feedback and hopefully lead to the big jump that all venture backed companies are looking for.


If you weren't making a chat platform for professionals, what would you be doing?

I have absolutely no idea. Yikes!

As a founder, what keeps you up at night, and what gets you out of bed in the morning?


It's one in the same really – I'm motivated when I see the work our team is doing having a positive impact on the customers we're targeting. While I consider myself a capitalist, I'm more motivated by impact than money. Building a large scale platform used by many, many people is what keeps me up at night and gets me out of bed in the morning.


What's at the top of your wish list for your industry?

We obviously believe that there's a huge gap in the market for a platform where professionals truly engage with one another. LinkedIn has done a phenomenal job of building a Rolodex of resumes for salespeople and recruiters. But the new connected economy demands that professionals build relationships and deliver value – it's a quality game, not quantity. We want those that are seen as industry connectors and community strengtheners to be rewarded as such.


What sparked the idea to create a chat platform for professionals?

It really was born out of our own founder challenges in the past. Before I started BostInno, I wanted to get involved in the tech community in Boston, but there were definitely some barriers for me. They were primarily knowledge and experience – I didn't know many folks in the community, and I didn't really know what I was talking about. At the time, there wasn't much of a support system to help new people get into the tech community, which is why I actually ended up starting BostInno (a media and event business to educate and bring the community together). VentureApp is the evolution of that idea – you can read as much as you want about the community online, but eventually you need to start making quality connections to have a real impact. We hope to give you the tools to do that in an authentic way – by sharing knowledge, providing value, building trust, and working toward the greater good of bolstering your community. For those that are just starting out in the community, we hope to break down some of those initial barriers for people who are smart, have great ideas, and have a lot to offer to the community.


Where do you get your industry news?

I start at the platform level: Twitter, Medium...and then narrow down by people (VCs, reporters, CEOs), topics (tech, VC, economy) and publications (Axios, etc.) that I'm interested in. But with some plans for VentureApp, I hope this answer changes soon!


Follow Chase on Twitter @cgarb and @VentureApp