You know that magic that happens when you work with awesome people? We think it's everything, and we love working with folks who bring that kind of chemistry into our days. As often as possible, we sit down with one of these execs to talk about startups, the future of their industries and whatever other topics pop up.
In the hot seat today: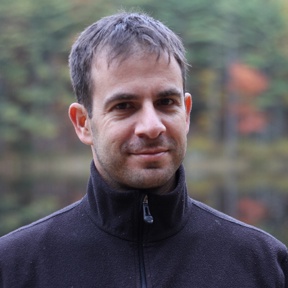 Gilad Rosenzweig is executive director at MIT's DesignX Accelerator and the founder of Smarter in the City, a non-profit accelerator for high-tech startups in Boston's Roxbury neighborhood. An architect and urban planner with almost two decades of experience in community development, public policy, technological innovation and the design of things big and small, Gilad has worked in Canada, Israel, the U.K. and across the U.S. He's a graduate of MIT's Department of Urban Studies and Planning and the Bartlett School of Architecture in London.
Who influenced you when you were starting out as an architect?

The person who got me on this track is Cameron Sinclair (although he doesn't know it, because we've never met). He put away his ego for design and asked, "How can I have a bigger impact?" He started Architecture for Humanity, which brought design, construction and development services where they are most critically needed, and he's since founded Small Works. He really made me think differently about using my skills as an architect. As an example, I had a project in Tel Aviv to design a youth crisis center. They had a basement facility, but no money. I volunteered as project architect, found contractors to work at cost or less, and we made this beautiful, colorful, friendly space. A week after it opened, a girl who used the center said to me, "I've never been in a space that someone cared so much to design for me."

After that, I wanted to take my architecture background and look at things on a bigger scale, to learn how to plan cities in a way that improves lives. I came to MIT to study urban planning, and that's where the idea for Smarter in the City

started.
Tell us a bit more about the origins of Smarter in the City.


I saw the burgeoning tech sector in Kendall Square, and I was traveling to Roxbury to work on my thesis. It was only three miles away, but it was a night and day difference. In Kendall, real estate costs as much as Midtown Manhattan or more. A few miles down Mass Ave, the Dudley Square census block is among the poorest in the city.

Every neighborhood and every school should have access to education, resources and transportation to equalize the landscape for business entrepreneurs, specifically in high-tech. The goal of Smarter in the City was to create a place for entrepreneurs who want to start businesses that can scale and reach potentially high returns, and provide the mentors, office space and resources to help them get there.
Why did you set up shop in Roxbury instead of working to get more founders from underrepresented communities into existing accelerators?


By having a physical space in Roxbury as opposed to approaching existing programs and saying to them, "Make sure you have diversity and inclusion," we sent a different message as to how diversity and equality should be approached. They should be basic building blocks, not just add-on elements. Since we opened in 2014, we've had 20 companies complete our accelerator program. In the meantime, the Roxbury Innovation Center

opened, as well. The startup activity is helping change perceptions of Roxbury that even some of our mentors had the first time they came to the neighborhood. This is part of a nationwide discussion about the tech sector, about who can be a founder of a tech company. It should not depend on background, gender, where people live, or where they went to school – or if they went at all.
You told Boston Magazine that to truly diversify the tech sector, the startup ecosystem needs to benefit all neighborhoods. What work remains to be done?


I haven't seen enough investment in companies founded by African-Americans and Latinos in the city. It would be interesting to see a survey of how many early-stage tech companies have raised money in Boston and who the founders are. I'd guess the majority are still white men and graduates of top-tier universities. We're definitely still missing something there.

The second thing, thinking as a planner, I was hoping after establishing Smarter in the City, that it would act as a catalyst for more startup activity and the attraction of co-working space, helping the neighborhood see a bigger economic shift. But there are still way too many empty storefronts and much poverty in the neighborhood. There is a high concentration of poverty in Dudley Square, which needs solutions in education, health and housing, not just economic development. When this poverty is so visible, it ends up being the face of a community to the outside, and that's unfortunate.
What's one of the hard-to-solve problems you can see at the root level?


We've seen a lot of people with great ideas who have no capital and have to work full time. If you can only work on the side, you're not giving the 100 percent time to a startup when you should, in fact, be giving 120 percent. That affects the outcome. This has been a problem for several of our founders. They have a great idea, an app, a platform. But they don't have the money to pay rent, so they do some freelance work on the side. There is a barrier to risk-taking when you don't have the ability to call on family to help or guarantee you financially. A different back-up system or pool of funds for entrepreneurs needs to be created.
You mentioned you take the No. 1 bus over from MIT. What are you doing there?


I'm still involved at Smarter in the City, but Kofi Callender took over as executive director when I took on another role as the executive director of MIT's DesignX Accelerator

.
Do you see a bridge between what you're doing at MIT and Smarter in the City?


It's a very similar curriculum. DesignX is mostly for students, although we have some faculty, researchers and alum in the program, as well. There's definitely an advantage at DesignX, in that the founders are in a program and their time commitment is to school – their startups benefit from that. The resources are also greater. I have $15,000 per team available at MIT as opposed to the $5,000 we have in Roxbury. But we are making connections between the two programs. I've been able to bring on mentors that work with both DesignX and Smarter in the City. MIT is also a very open environment.
Can you tell us some of the companies to watch from Smarter in the City and DesignX?


Melissa James at Tech Connection

is a force. A Smarter in the City alum, Melissa's company is bridging the gap between underrepresented technical talent and technology companies, and she knows her stuff. In Smarter in the City's current cohort,

ScholarJet

co-founders and Northeastern undergrads Tuan Ho and Joseph Alim are facilitating a new way to get scholarships. I have strong expectations for them. At DesignX, one of the companies with high potential, as well as a great social platform, is

Nesterly

, which is connecting empty nesters – who might need a little extra income, some company or help with chores – with students who need inexpensive housing.
Follow @SmarterintheC and @MITDesignX.