You know the magic that happens when you work with awesome people? We think it's everything, and we love working with folks who bring that kind of chemistry into our days. As often as possible, we sit down with one of these execs to talk about startups, the future of their industries and whatever other topics pop up.
In the hot seat today: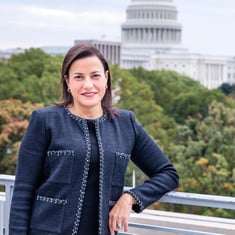 Thought leader and President & CEO of the Diversity & Flexibility Alliance, Manar Morales. Motivated by her own experiences, Manar set out to tackle the lack of workplace diversity, inclusion and flexibility, while helping to amplify the voices of women leaders.
A trailblazer in the field, she's been promoting the benefits of flexible working for more than fifteen years and knew remote teams could be successful long before the pandemic. The Diversity & Flexibility Alliance advises organizations on how to truly embrace flexible and inclusive work policies to improve their recruitment, retention, employee satisfaction, productivity and ingenuity.
1. Who or what inspired you to start this work and create the Diversity & Flexibility Alliance?
After I graduated from law school, I became a litigator and an adjunct professor. After I had my first son a few years later, I wanted to go part-time but found there were not many options for litigators. So, I had to create my own path. A lot of women would come up to me and say, "If I could have done it the way you did it, I wouldn't have left my job." That led me to look at the broad impact that flexibility could have on the advancement of women.
2. How have you individually or the Diversity & Flexibility Alliance as a whole worked to make change for the better?
We're a membership-based think tank. So, we have a unique opportunity to bring a community of organizations together for a conversation around the importance of diversity and flexibility in the workplace and share best practices from various industries. Our research provides us with the hard data that backs all of our strategic advice and gives us the credibility to really create change.
Our goal has always been to try to change the narrative and mindset around what flexibility is and what it isn't. It's not a trade-off for performance, it's a driver of innovation, diversity, talent, productivity, and ultimately a driver of profitability, too. As many people learned during the pandemic, flexibility is not a work-life balance tool, boundaries are a work-life balance tool. The ability to enforce boundaries is a business imperative that benefits both the individuals and the organization.
3. Can you tell us about a time you've changed someone's perspective on diversity and flexibility?
We've worked with a lot of different organizations. We can't always guarantee what they're going to do, but we can always guarantee that they're having the right conversations. A lot of our efforts involve working with leaders first to shift their mindset around what flexibility is and what it isn't.
We spend a lot of time busting the myths around flexibility. In fact, we wrote a Harvard Business Review article on the 5 Myths About Flexible Work. Many leaders are afraid that if they embrace flexibility, they'll lose their culture, control, contribution, collaboration and connection. Our goal has always been to tell them that if you implement flexibility in the right way, it will instead be a driver of those things.
4. We're in the middle of year two of a massive remote work experiment. How has the pandemic helped or hurt diversity and flexible work?
The pandemic has accelerated people's acceptance of flexibility. Prior to the pandemic, I used to say that our biggest competitor was the status quo - leaders who would say "we've always done it this way" and don't want to change. Many of those same leaders have since come up to me and said, "Who would have thought that this would work?" We joke and say, "Well, we did!"
Leaders that were initially resistant to remote work suddenly found themselves working from home. They began to understand they could do so and be quite productive. So, there's been a lot of shifts in mindset around it.
The problem is that this wasn't true flexibility. It wasn't true telecommuting, it was telecommuting during a pandemic. Individuals were dealing with illnesses, loss of social support, remote schooling, elder care, and loss of child care amongst other stressors. People had to roll out flexibility and flip their organizations over to enable remote work overnight. They didn't have the infrastructure, support, or policies and practices. It worked, but it would work much better if the support systems were in place.
We are now advising organizations on how to reimagine their flexible and hybrid working initiatives and recalibrate with the necessary structures in place for this new way of working.
5. What is your top priority right now as an organization?
Our top priority is to make sure that flexibility is embraced as part of the future of work, that there are real changes made, not just temporary ones. We want organizations to fully embrace flexibility so that their policies, people and practices are all aligned. It's not just about having a policy, it's about creating the right foundation to support it and providing a culture in which people can thrive.
6. What's something you're reading, watching or listening to that has sparked joy for you recently?
I just finished reading Undaunted, which is the story of Kara Goldin, the founder of Hint Water. I tend to enjoy watching or reading books by female founders. It's always very inspiring to hear their stories. Then, I have three boys who are big Ted Lasso fans. So, we have been watching Ted Lasso as a family, and that has been the best.
7. If you weren't running the Diversity & Flexibility Alliance, what would you be doing?
I love connecting with and teaching others, so I would probably want to teach in some fashion. I like the idea of working with people on starting their own businesses and developing entrepreneurs. I especially would love to encourage more women to start their own organizations.
8. What are your hopes for the Diversity & Flexibility Alliance's future? How would you like to see workplaces evolve?
My hope for the Alliance is to continue to elevate the conversation around the future of work. Diversity and flexibility should not be seen as accommodations or benefits but should be integral parts of every business model.
All CEOs should be asking themselves: What is the business model that's going to take us into the future and how can diversity and flexibility play a key role in that?
Be sure to check out The Diversity & Flexibility Alliance's website, follow their Twitter, Facebook, & LinkedIn pages, and sign up for their monthly newsletter to make sure you never miss an update!